Campervans and Motorhomes
All purpose heaters for all purpose vehicles
The campervan and motorhome market has fast become the biggest supplier of hot air blown heaters. The MV Airo 2 has proven itself invaluable as an affordable and reliable heater in this marketplace. Due to its size it fits easily underneath the back seats with minimal noise output, but maximum efficiency. From Ford Transits to VW Transporters, MV Heating has got you covered!
As this is the smaller heater model, it is ideal for recreational vehicles and campers, especially those with a keen eye for adventuring who require maximum load space within the vehicle. For those lovers of the outdoors the MV Airo series are ideal to keep you warm inside your vehicle wherever the road takes you. At MV Heating we have supplied numerous heaters for numerous applications, we strive to find the right heater to suit your needs!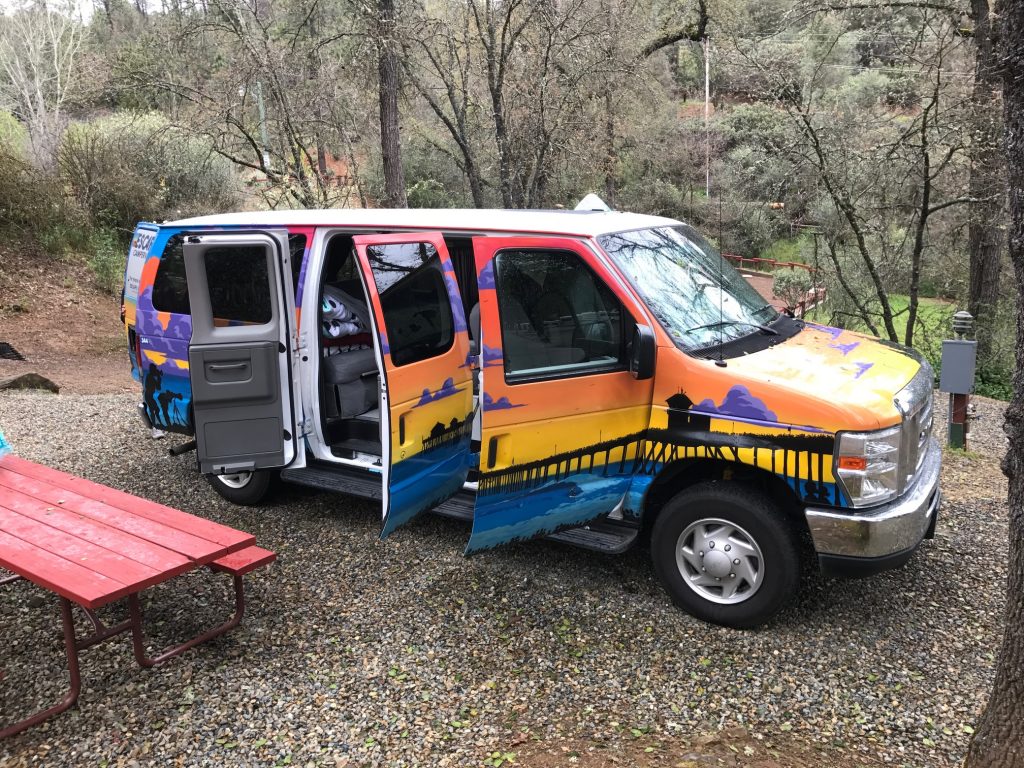 Air Heating Typical Installation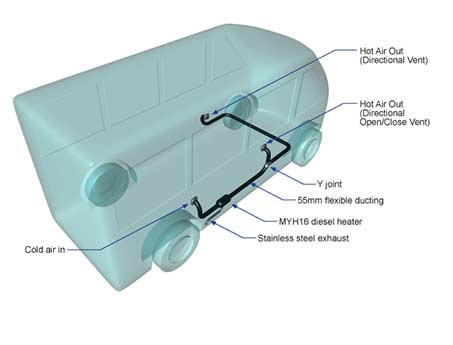 The MV Airo series of blown air heaters can be fitted either inside or outside the vehicle with the addition of an exterior stainless steel mounting box. We have a wide range of accessories available to fit single outlet or multiple outlet installations. We also provide a variety of controls to suit customer requirements from basic on/off switches to telephone operated systems to switch the heating system on remotely. We also carry multiple options for making your heater quieter, from exhaust and combustion air silencers, to acoustic ducting; your heater will have never been quieter.
Water heating typical installation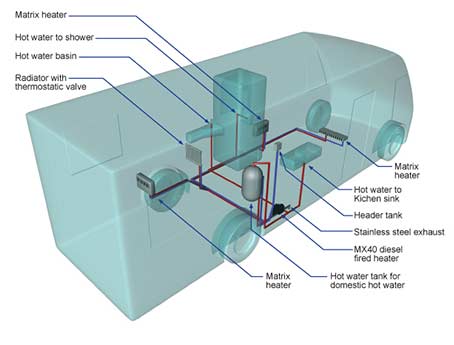 The MV Hydro series of hot water heaters can provide central heating via matrix heaters or radiators and domestic hot for showers and sink via a calorifier. The advantage of a diesel heater is that it can be run whilst the vehicle is travelling to provide heat to the rear of the vehicle. The simple push fit plumbing systems available make installation of these heaters within the reach of any competent DIY person.
Heating Kits for Campervans and Motorhomes