Minibus Heaters
Travel in Comfort
Minibuses often travel long distances and carry people of all ages. An efficient heating system is key to ensuring the comfort of your passengers. At MV Heating we have an extensive range of heaters, upgrades and accessories to suit your requirements. From large vehicles to small ones, from air heaters to water heaters, we can supply your vehicle with what you need.
All our heaters come with comprehensive kits, so they are all ready for installation straight out of the box. And the upgrades we have on offer means you can customise your heater depending on how large your vehicle is or how much ventilation you require. Just take a look at the Airo series of heaters if you require an air heater or our Hydro range, if it's a hot water system you require.
Air Heating Typical Installation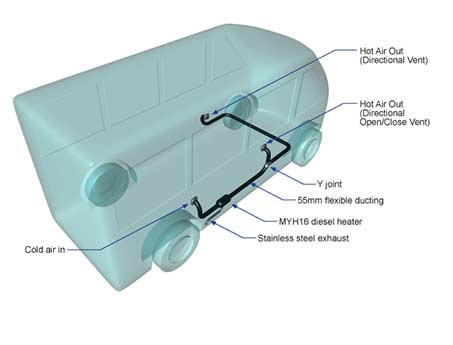 The MV Airo series of blown air heaters can be fitted either inside or outside the vehicle with the addition of an exterior stainless steel mounting box. We have a wide range of accessories available to fit single outlet or multiple outlet installations. We also provide a variety of controls to suit customer requirements from basic on/off switches to telephone operated systems to switch the heating system on remotely. We also carry multiple options for making your heater quieter, from exhaust and combustion air silencers, to acoustic ducting; your heater will have never been quieter.
Water Heating Typical Installation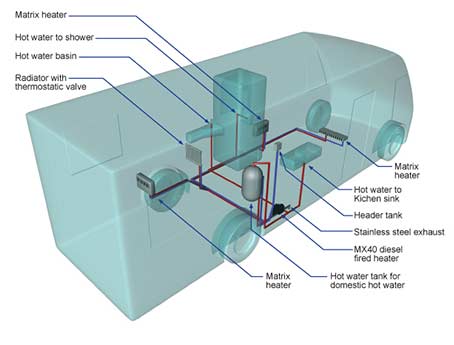 The MV Hydro series of hot water heaters can provide central heating via matrix heaters or radiators and domestic hot for showers and sink via a calorifier. The advantage of a diesel heater is that it can be run whilst the vehicle is travelling to provide heat to the rear of the vehicle. The simple push fit plumbing systems available make installation of these heaters within the reach of any competent DIY person.
Heating Kits for Minibuses