Description
The MV MY20 is an all new, quiet, economical, and affordable 2kW diesel heater coming from a range of heaters that you can trust. Its comprehensive installation kit means it is easy to install, in any vehicle. It operates fully automatically with a 2kW output. It takes diesel fuel from the vehicle tank via it's own fuel pump (supplied in the kit) and delivers it to the heater in precise amounts to give a clean burning, low noise exhaust, which exits underneath the vehicle.
The warm, dry air is circulated around the interior of the vehicle by the quiet built in fan. Its efficient design means current consumption is kept to a minimum. At a low setting, drawing only 0.9A from the battery.
It also comes with a silencer kit, mini timer, and remote control as standard! The MY20 Economie heater is an affordable option, to keep you warm!
Tech Data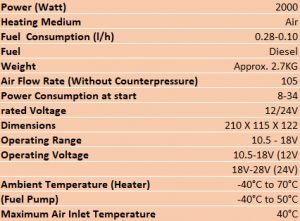 Parts List