Truck and Lorry Heaters
Warm up on the road
Life on the road can often be long, lonely and above all cold. Especially if you have an inefficient or slow to start heater that leaves your cab feeling less than comfortable, at any time of the day. Here at MV Heating we have the solution for you! Our Airo range of heaters are small air heaters that take diesel fuel from the vehicles tank via its own supplied fuel pump, and deliveries clean, hot air around the cabin. They are quiet, easy to install but above all have a low cost of ownership.

Truck sleeper cabs are now becoming more comfortable and functional. The heating system is essential for overnight comfort and necessary for loading to prevent unwanted idling from the vehicle engine; so the MV Airo series is the perfect choice. Its size means it can be easily installed in most areas but is still efficient yet powerful enough for the job. We even offer comprehensive upgrade kits; so that larger cabs, that require extra ventilation, can also be catered for. Extra accessories, like the remote control starter, are also available. Use it to switch the heater on before you start, so that the cab is already warm for when you get in.
Typical Lorry Heater Installation
The heater is normally fitted under the driver's bunk with either a single or twin outlet providing heat to distribute throughout the driver's cab. The Airo 2 is suitable for overnight sleeping or maintaining cab temperature during loading and unloading preventing the need to run the vehicle engine.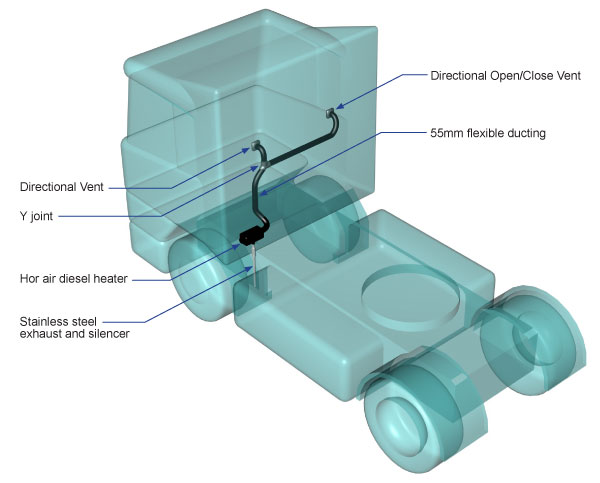 Heating Kits for Trucks and Lorries