Description
The MV Airo 2 is a new diesel heater which is economical, light weight, with a low current consumption and is easy to install. It operates fully automatically with a simple rotary, or timer control for stepless output from 0.9kw to a full 2kw. It takes diesel fuel from the vehicle tank via it's own fuel pump (supplied in the kit) and delivers it to the heater in precise amounts to give a clean burning, low noise exhaust, which exits underneath the vehicle. All kits come as standard with an exhaust and combustion air silencer too, to keep the operating noise to a minimum!
The warm, dry air is circulated around the interior of the vehicle by the quiet built in fan. Its efficient design means current consumption is kept to a minimum. At a low setting, drawing only 0.9A from the battery.
A competitively priced, low running cost diesel heater, for the leisure industry!
Parts List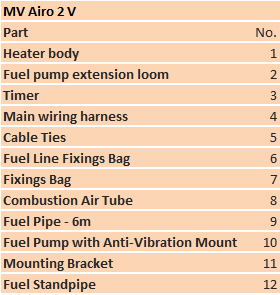 Technical Data